Ferrets love to live, play and sleep with their friends.........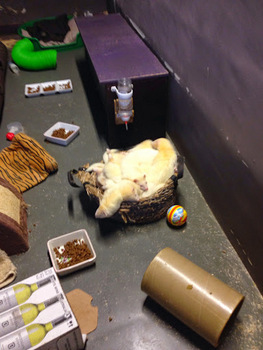 A litter of white fluffy babies
These gorgeous sisters and brothers are now 8 months old
.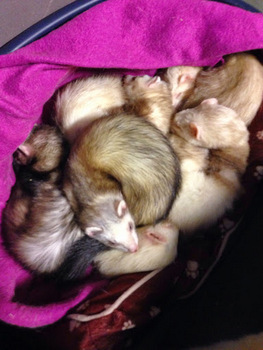 Snuggled up together
It doesn't matter how many beds they have available, they still all snuggle up together!
.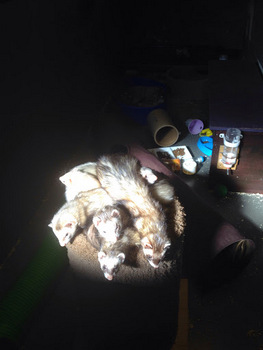 Chilled out
Just chilling out!
.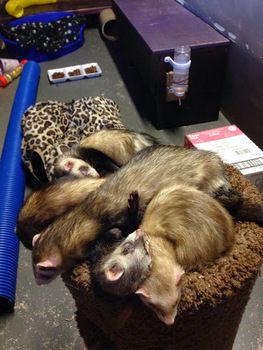 All on top
Snoozing on top of their 'tower'!
.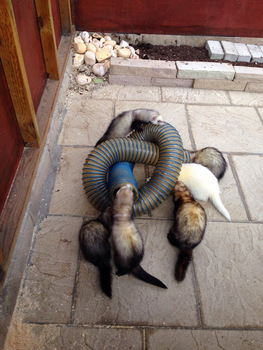 Tubes provide hours of fun
Ferrets just love tubes, boxes and paper bags to play in!
.
Our ferrets are rehomed in two's (or more) or go to homes to be playmates for other ferrets as it is rare to find a ferret who is happy living on its own. Here are some of our lovely fuzzies who are looking for new loving, forever homes...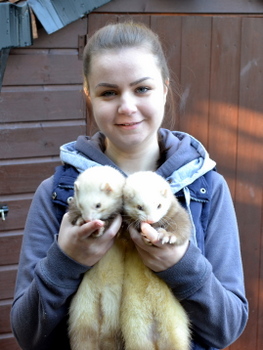 Cappachino and Latte
Two gorgeous coffee-coloured brothers surrendered because their owners "were moving" (why leave members of your family benind?!). They are very sweet boys and perfect for first-time ferret owners.
.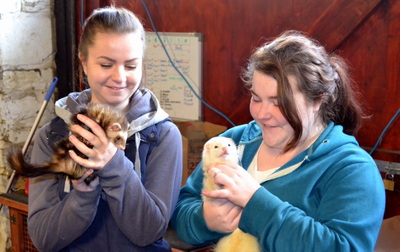 Caspar and Meadow
Caspar who is a big, cuddly, silver-coloured boy and Meadow, a little russet-brown girl, are devoted to each other and will need to be rehomed together.
.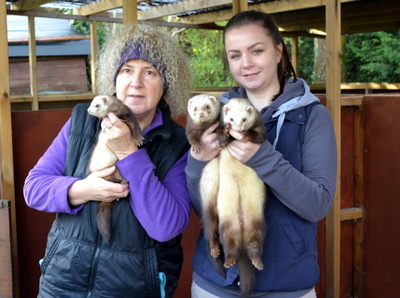 Ruby, Foxy and Ginger
These two brothers and one sister were part of a rescue of 22 ferrets whose owner had 'gone away' unexpectedly and his family could not look after them. Seventeen of them have now been adopted but this little band of siblings are still looking for a home where they can live happily together - their names give you a clue as to their colour!
.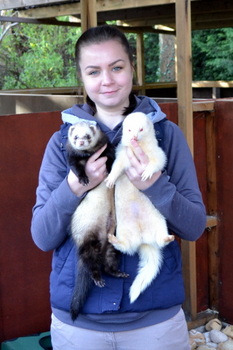 Fidgit and Albie
Part of the same rescue of the 22 ferrets, Fidgit and Albie (dark and light) are two sweet-natured boys who are happy living togther with other ferrets.
.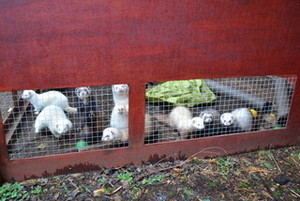 The Scamps
A group of 10 boys enjoying playtime. All these boys are happy to be cuddled and love playing together. Neutered, vaccinated and ready for re-homing come and choose any two (or more) out of the ten!
.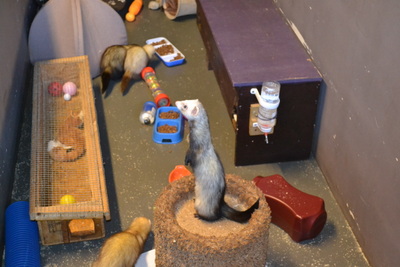 Simon - the meerkat?
Simon sometimes thinks he's a meerkat..........
.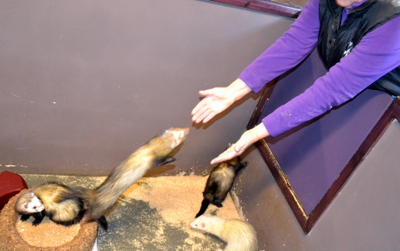 Simon - the acrobat?
............or an acrobat!! This lively teenager (a 2014 kit) is full of energy and will keep any adopting family entertained for hours!
.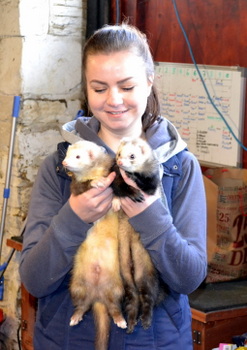 Peanut and George
Peanut, a little stray, and George, abandoned by his owner as a baby, live and play happily together with other males and females in their Group.
.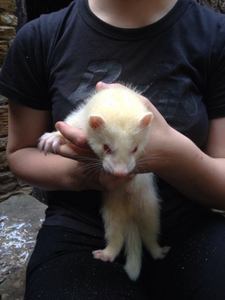 Bobby
Bobby has a cute little pink nose and a very playful nature - he is currently one of 10 youngsters all looking for a loving home - could you give Bobby and one of his brothers (Benny, Buttons, Bubbles) or sisters (Tinkerbell and Snowdrop) that home?
.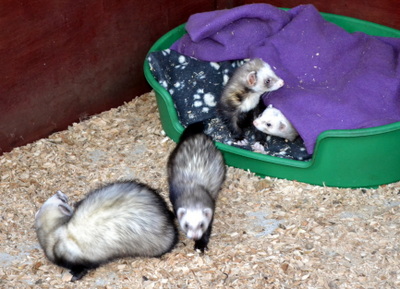 Todd, Alvin, Cookie and Lula
Alvin and Cookie are brothers born on Good Friday 2014 who live happily with Todd, an RSPCA rescue and Lula a little stray.
.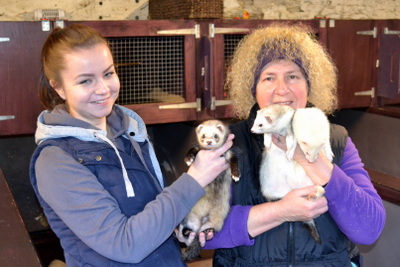 Mae, Melody and Lola
Three lovely girls all the colours of the rainbow with beautiful dark, silver and bright white coats!
.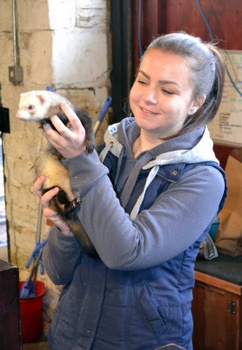 George
This little mischief maker can be a bit nippy when he gets excited but he does have a playful loving side. He is such a teenager!
.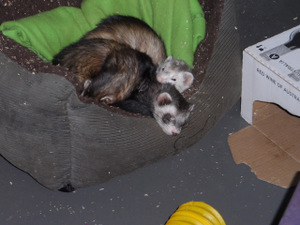 Robbie, Keir, Silvey
Little Silvey is a real drama queen! Many the time we hear squeals coming from her run and dash over to the rescue only to find her sitting on one of the boy's heads or wrestling with them and she looks up as if to say "yes what can I do for you?"! Robbie and Keir are two beautiful dark brothers who adore her but also do as she tells them!
.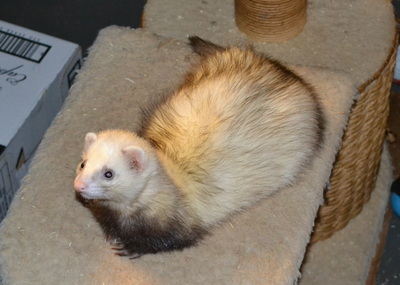 Jake
This lovely sandy-coloured male - brought in by the RSPCA as a stray - has the saddest eyes but is a happy little ferret who loves playing with the girls and boys in his Group.
.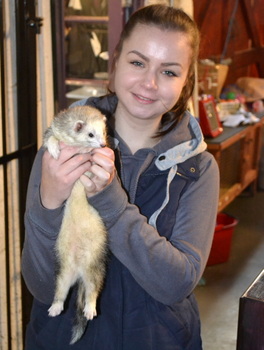 India
This beautiful silvery female with a little black nose lost her cage-mate recently. They were devoted to each other and India appeared to lose the will to live and, although she has started to play again, all attempts to socialise her with another ferret have failed so far so she may be able to be rehomed as a single ferret.
.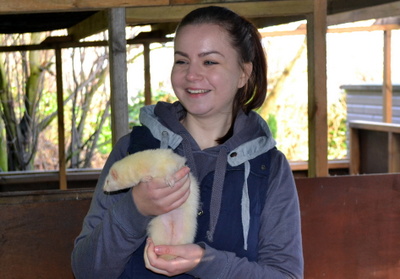 Mia
Unusually we have another little girl who we are unable to socialise with another ferret. She is sweet and playful but only with humans! So if you're looking to adopt just one ferret to be YOUR playmate you will want to take her home!
.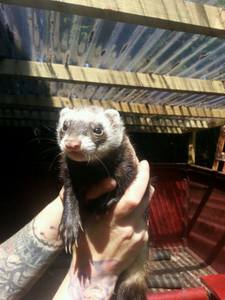 Daisy
Daisy is a little girl with a big heart despite being rescued from appalling living conditions on a farm with her sister Gypsy.
.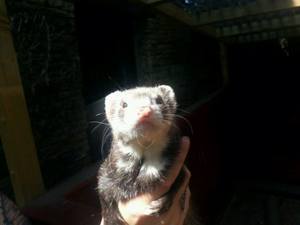 Gypsy
Gypsy was rescued with her sister Daisy and they're the sweetest, little girls ever - never a cross word between them.
.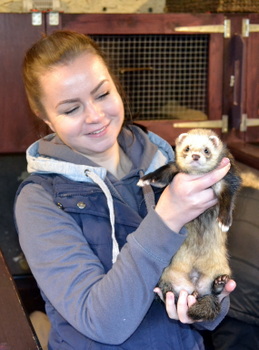 Theo
Theo is a little, cuddly, snugglebug and who wouldn't want to give this boy a big cuddle?! He lives happily with his housemates and would need to be rehomed with one of them - there's lots of choice!
.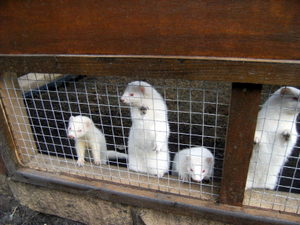 Buster, Lucky, Danny, Aaron
Can you tell the difference between these four, gorgeous, white, fluffy housemates? No, then it won't matter which two you take home!
.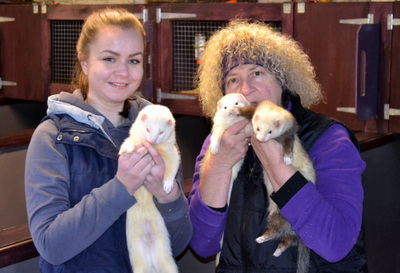 Juggernaut, Fernndo and Alexander
Juggernaut (can you guess why he got that name?!!) has a heart as big as his body and lives happily with his housemates including Fernando and Alexander who seems to be bopping Fernando on his nose!
.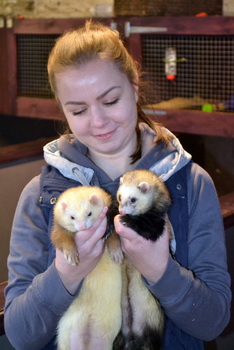 Mo and Cricket
Mo was rescued by the RSPCA as he was being badly neglected (he's now the lovely looking ferret you see here) and Cricket came into to us when I took THREE ferrets to my vets and came out with FOUR!
.

Information on keeping ferrets as pets