Ferrets love to live, play and sleep with their friends.........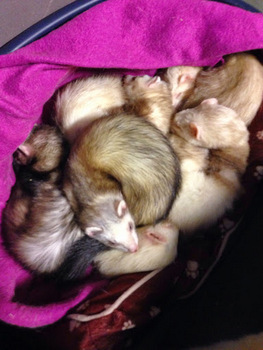 A lovely group of fuzzies
Very few ferrets are happy living on their own they love to be together like these guys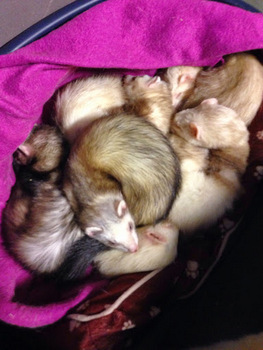 Snuggled up together
It doesn't matter how many beds they have available, they still all snuggle up together!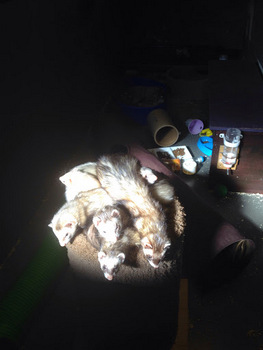 Chilled out
Just chilling out!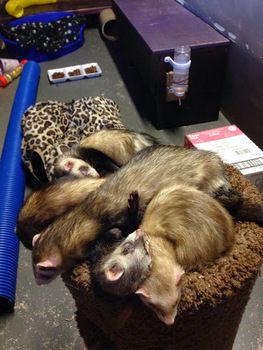 All on top
Snoozing on top of their 'tower'!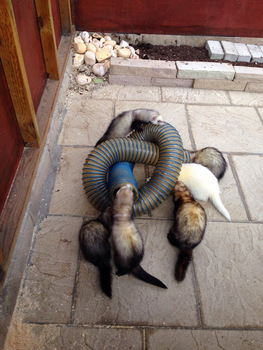 Tubes provide hours of fun
Ferrets just love tubes, boxes and paper bags to play in!
Updated June '16 ............Our ferrets are rehomed in two's (or more) or go to homes to be playmates for other ferrets as it is rare to find a ferret who is happy living on its own. Here are some of our lovely fuzzies who are looking for new loving, forever homes...

Spartacus and Pumpkin
Two gorgeous black-eyed white brothers surrendered because their owners "were moving" (why leave members of your family behind?!). They are very sweet boys and perfect for first-time ferret owners.

Upside down sleeping
Buddy was surrendered by the Animal Department of a local college because he couldn't get on with their other ferrets. For some reason Buddy likes to sleep upside down in his bed - go figure!

Angel
Angel, a beautiful black-eyed white girl, came into the rescue with a large lump on the side of her neck probably the reason for her being dumped. Our wonderful vet at Donaldson's Vets removed the lump which happily proved to be non-cancerous and now she is perfect!

Buddy and Angel
Buddy and Angel struggled in their respective groups but once they set eyes on each other it was love at first sight between this dark handsome boy and beautiful white girl so they would have to be rehomed together.

The Scamps
A group of 7 boys enjoying playtime. All these boys are happy to be cuddled and love playing together. Neutered, vaccinated and ready for re-homing come and choose any two (or more) out of the seven!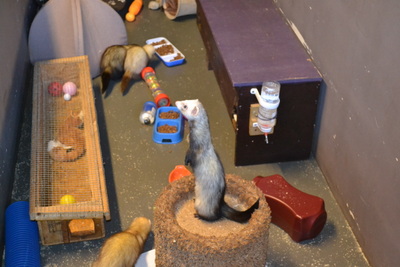 Josh - the meerkat?
Josh sometimes thinks he's a meerkat..........

Two Little Sisters
Bindi and Titch were surrendered when their owner returned to South Africa and was unable to take them with her. They were well loved and are used to lots of attention which sadly, with so many ferrets to take care of, we can't give them in the Rescue but can you?

Seth
Seth, a little stray, was brought into the Rescue by one of our volunteers. He was so stressed that he was very nippy. But now that he has been neutered and well handled (we give him lots of cuddles!) he's a big cuddly softie!

Seth in his Group
Seth is now a happy boy and loves playing. He needs to be rehomed with one of his buddies which means you'll have lots of choice if you decide to give Seth and one (or more!)of his buddies their loving forever home.

Four Little Orphans - Sassy, Flossy, Chloe and Finn
These little Meepers lost their mama when they were just 4 weeks old which meant they had to be fed every two hours in the day and all through the night! It will be some time before they can go up for adoption so watch this space.

Sassy, Flossy, Chloe and Finn
Three beautiful girls and one lovely boy tuck into their first meal of meat!

Just a few days old
The RSPCA brought in their mama not knowing she was pregnant and within a short period of time we had another litter of kits! Too young yet for us to handle (that would freak their mama out) so we don't know how many of the babies are girls or boys.

Group 5
A really lovely group of girls and boys with never a cross word until it comes to bedtime when, despite the fact that there's three beds for six ferrets, they all want to get into the same on! Do you have a spare bed for two or more of these gorgeous fuzzies?

Chance
Chance was seen running around a farmyard for about three weeks before she was captured. Thin, dehydrated, covered in ticks & fleas with a bad bite on her neck she was a very weak ferret on the verge of death. But we gave her a second 'chance' and being the true survivor she is she bounced back and is now a healthy little girl looking for a loving home - can you give her one either with a ferret you already have or with one out of her Group?

Hershey
This lovely small albino boy - brought in by the RSPCA as a stray - is a youngster who loved his first visit to one of the outside play runs. Once he's neutered and vaccinated and gone through his 21 days quarantine he will be ready for his forever home!

Leonardo & Sushi
These two handsome boys (last year's kits), are firm friends. Leonardo was brought to the Rescue by the RSPCA and when I took him to the vets to be vaccinated it was one of those occasions when I walk into the surgery with one ferret and come out with two - in this case the 'extra' boy was Sushi!

trevor
Trevor is a very small for a male ferret and he has 'little man' attitude ie he thinks he's 6 foot tall. It's hilarious to see him 'square up' to Lumiere who is four times his size! He has lots of loving moments as well.

Moses, Cricket & Romeo
These three small(ish) boys,all strays from different parts of Yorkshire, came into the Rescue at the end of 2014 & the first quarter of 2015. They are constantly overlooked as no-one seems to want to take on three ferrets but they are such a tight-knit little group that we canít bear to have them separated Ė come on be brave take these boys and youíll not regret it for a minute!

Group 1
In Pen 1 is one of our smaller groups - two little sisters, Bindi & Titch and a beautiful big dark-eyed white called Tigger and his best buddy Truffles a lovely rolly-polly boy either pair will make a wonderful addition to anyone's family.

....and so to bed
Ferrets love to sleep all cuddled up together - can any of these lovelies come to your's for a permanent sleepover?

Information on keeping ferrets as pets